Caddy
Serving Customers for Over 100 Years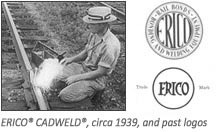 In 1903, the Electric Railway Improvement COmpany (ERICO®) was created to supply power bonds, signal bonds and related welding equipment to railroads, mining and street railway industries.
Today, ERICO® is a premier manufacturer of engineered products designed for diverse niche applications in the electrical, mechanical, commercial and industrial, rail and utility markets. Headquartered in Solon, Ohio, USA, ERICO has a sales network serving more than 25 countries, with manufacturing and distribution facilities worldwide.
CADDY® ROD LOCK is an innovative threaded rod mounting system from ERICO that provides a quick and economical solution for installing electrical and mechanical systems supported by threaded rod.
Caddy Rod Lock Testimonial
CADDY® ROD LOCK Duct Brackets are the ideal solution for professionals who prefer to prefabricate mounting brackets for sections of rectangular duct. Rather than rely on traditional methods, these brackets attach directly to the duct with included self-drilling screws. Once in place, the CADDY ROD LOCK technology allows the duct to simply be pushed onto pre-hung threaded rod – eliminating extra strut, nuts, or other hardware.
CADDY® PYRAMID RPS H-Frame Series Support System is a fast and economical solution for use in a wide variety of rooftop applications. The system provides a superior method for supporting pipe, conduit, ductwork, cable tray or any combination of these without causing damage to the rooftop membrane.
The supports have a highly engineered base design with a continuous bottom surface to help uniformly distribute the load and mitigate unwanted stress concentrations. The base is made from recycled, UV-stabilized engineered thermoplastic. An integral foam pad provides a gentle interface for all roof types.
Finding innovative, time-saving CADDY Fastening and Support Solutions just became easier.  Contractors have long turned to CADDY Products when they needed to solve a challenging problem on the jobsite, and now the answers are available at the swipe of a finger.  Our new mobile catalog provides access to complete product information and can be found on your smartphone at http://m.erico.com.
Territory: Texas and Oklahoma